2016 saw a number of changes in the composition of the corporate bodies of the PZU Group companies. The new Management Board of PZU led by Michał Krupiński reviewed and updated the existing strategy.
2016 saw a number of changes in the composition of the corporate bodies of the PZU Group companies, see more. The new Management Board of PZU led by Michał Krupiński reviewed and updated the existing strategy. The Management Board identified areas where it saw a potential for continuation of activities performed to date, space for improvement, as well as new ambitious initiatives that, in the long haul, would result in creating competitive advantages of PZU and goodwill for its shareholders. The results of the strategy overview confirmed that insurance should continue to be the Group's core business. Moreover, a greater potential for development of PZU Group's business was identified in health care and investments. In addition, as far as the realization of long-term development perspectives is concerned, a decision was made to invest in the banking sector in Poland.
"We are planning to concentrate on the area which has been a cornerstone of PZU identity for over 200 years – that is insurance business. We should put all our effects in offering to our clients the best and most innovative insurance products which protect their future, health, and property. That is why in everything we do, we will concentrate on ensuring that our core business is highly profitable, stable, and future-oriented." – Michał Krupiński, 15 March 2016.
"PZU Group Strategy 2020 – Profitability, Growth, Innovation" Development directions of PZU Group 2016-2020
The PZU Group strategy 2016-2020 published on 24 August 2016 was developed on the basis of the following core values: profitability, growth, and innovation. The Management Board's intention was to increase profitability of insurance activity and develop innovative tools for business management and customer service. The strategic goals took a form of ambitious growth initiatives, also related to such areas as PZU Zdrowie, PZU Inwestycje, and banking sector. The process of achieving these goals was planned in a way that allows PZU to secure means for further sustainable development and providing attractive dividend in the long term. Maintaining a high return on equity ratio (ROE) is the key to the strategy's success.
"Today, PZU is one of the most profitable companies in the insurance sector. However, we realize that, in order to ensure high profitability for our investors in the future and considering rapid technological changes, we also need to invest in our own development. We need to constantly develop and stay focused on the clients and their changing needs." – Michał Krupiński, 24 August 2016.
Key strategic directions 2020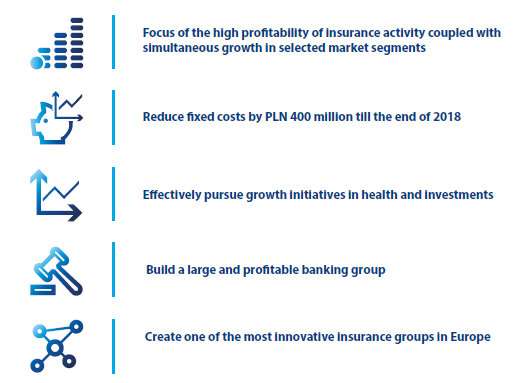 All goals included in the Strategy were quantified and are seasonally monitored by means of precisely specified measures that allow for on-going monitoring and correction of assumptions made. See more
Key changes made to PZU Strategy 3.0 adopted in January 2015 concerned the following:
increased focus on

profitability

of the Group's core business (insurance), e.g. by reducing fixed costs by PLN 400 million by 2018;
accelerating PZU Group

growth rate

, including development of the following areas: Zdrowie and Inwestycje;
including in PZU Group Strategy a plan for investment in

the banking sector

;
increased role of

innovation

in PZU Group as a tool for achieving goals regarding profitability and growth.
Capital and dividend policy as an integral part of PZU Group Strategy
On 4 October 2016, Group Strategy was supplemented with Capital and dividend policy of PZU Group for 2016-2020. In line with the presented assumptions, maximum 20% of profit could be set aside for organic development, and no more than 30% on financing strategic mergers and acquisitions. That means that every year the Management Board recommends that the General Shareholders' Meeting (after obtaining an opinion from the Supervisory Board) allocates at least 50% of net profit for dividend for shareholders. Should the budget allocated for acquisition be not used in a given financial year, it can be used for payment of dividend for shareholders. See more
"Dividend policy is an important element of PZU Strategy 2020. The Management Board's goal is for PZU to be a company that pays attractive dividends in the future. We will achieve that by investing in organic development and innovations, and by realizing our strategic goals in the area of mergers and acquisitions. Every year, we want to allocate at least 50% of profit for dividends. (..) We will develop Group in a way that ensures increasing dividends to all PZU SA shareholders" – Michał Krupiński, 4 October 2016
The goal of capital and dividend policy is to focus on the shareholder return. It is based on efficient capital management, maximizing return on equity for parent company shareholders (especially by maintaining security level and capital resources for strategic development realized by mergers and acquisitions), maintaining target Solvency II ratio at 200% and leverage ratio at 35% or less, and assuming that PZU will not issue shares as long as the policy is in place.