We create the value of PZU through active communication with capital market participants. We build and take care of good relations.
In order to meet the highest information governance requirements for public companies and fulfill the information needs of different groups of stakeholders, the PZU Management Board undertakes various investor relations activities aimed at improving transparency of the company. Therefore, PZU consistently applies "Principles for PZU to Conduct its Information Policy for Capital Market Participants".
PZU shareholding structure
As at 31 December 2016, the shareholders of PZU with significant share packages were as follows: the State Treasury of the Republic of Poland (34.2% of the share capital) and Aviva Otwarty Fundusz Emerytalny Aviva BZ WBK (5.1% of the share capital), see more
The shareholding structure of PZU at the end of 2016 remained stable. The foreign investors' share increased by 1.2 p.p. to 33.1%.
According to the surveys conducted at the end of 2016, the shareholding structure of PZU remained stable. The foreign investors' share increased by 1.2 p.p. to 33.1%. The change in this group resulted mainly from the North American capital, the share of which rose by 2.1 p.p. year-on-year to 12.0%. The higher weight of foreign investors is also confirmed by WSE data7 concerning trading on the whole market, which shows that their share (in the stock market) at the end of 2016 was 53% (+2 p.p. year-on-year), while the share of Polish institutional investors dropped to 34% (-3 p.p. year-on- year).
PZU shareholding structure – key investor groups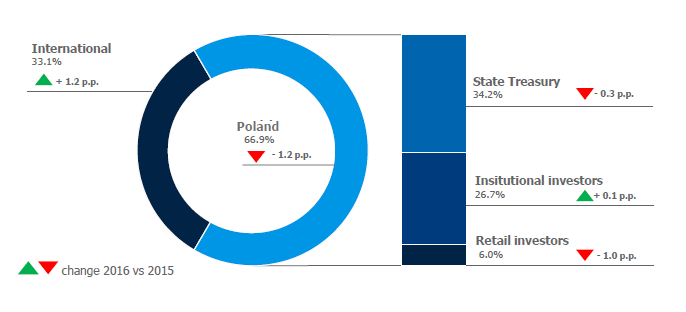 The share of European (with the exception of the State Treasury) institutional investors (in PZU share structure in 2016) slightly dropped, i.e. by 0.8 p.p. to 43.7%. The most important changes in this group (in a relative depiction) include the growth of the share of Polish investors by 2.9 p.p. (to 66.9%) and the rising activity of the investors from Great Britain, whose share rose from 19.5% to 20.9%.
Geographical structure of PZU shareholding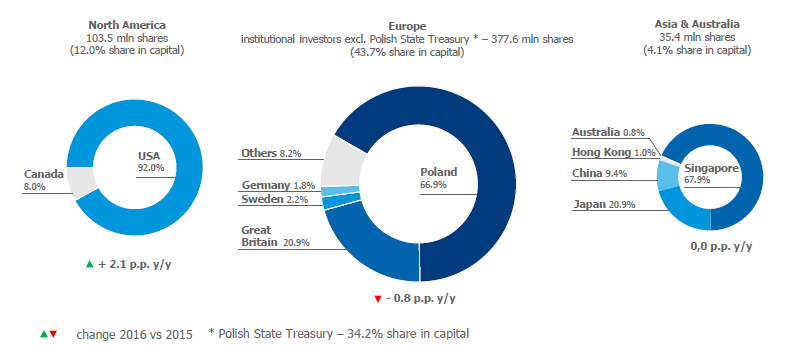 The share of Polish institutional investors remained at a level similar to that of 2015, i.e. at 26.7% (up by 0.1 p.p. year-on- year).
The share of Polish institutional investors remained at a level similar to that of 2015, i.e. at 26.7% (up by 0.1 p.p. year-on- year). This included both OPF and TFI raising their share by a few bps. As at the end of 2016, their share amounted to 19.1% and 5.3%, respectively.
North America investors 2014-2016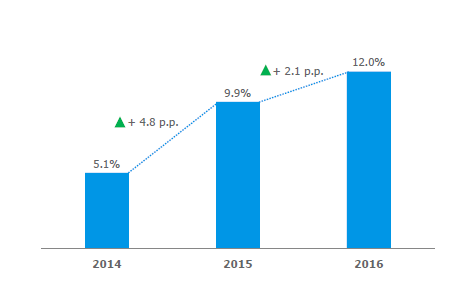 Individual investors composed roughly 6% of PZU shareholding in 2016, i.e. 1 p.p. less than in 2015. The low involvement of this group reflects the structural trends of the Polish capital market. In 2016, the share of individual investors in the trading of shares on WSE reached only 13% (much like in the years 2014–2015); for comparison purposes, the 2010 (the year of PZU's IPO) share of this group in trading was roughly 20%.
The share of individual investors located outside of Poland remained the same level as in 2015, at 1.1%.
Communication with capital market participants
The financial performance of PZU Group (for 2015, Q1 2016, H1 2016 and Q3 2016) was presented and discussed by the PZU Management Board during meetings with capital market analysts (the meetings were also broadcasted live online at all times). PZU also held dedicated meetings with live online transmissions from the following events:
24 August 2016 – announcement of the 2016–2020 strategy
4 October 2016 – announcement of PZU's capital and dividend policy
8 December 2016 – announcement of signing the agreement to purchase package of shares of Bank Pekao from UniCredit
In 2016, PZU once again presented its most important events, achievements, and plans as an annual online report at http:// raportroczny2015.pzu.pl. The report was awarded the highest distinction for the best annual online report in a prestigious competition held by the Polish Institute of Accounting and Taxes.
Activities aimed at institutional investors
In 2016, representatives of PZU participated in:
2 non-deal road shows in London and New York/Boston;
15 financial conferences held abroad with global institutional investors in attendance;
5 conferences for institutional investors in Warsaw;
numerous investor meetings at the company's seat; 1on1, group meetings, and teleconferences.
In 2016, PZU organized 163 meetings with nearly 288 institutional investors and over 132 meetings and teleconferences with analysts issuing recommendations concerning PZU shares.
Investment centers visited in 2016 (number of visits)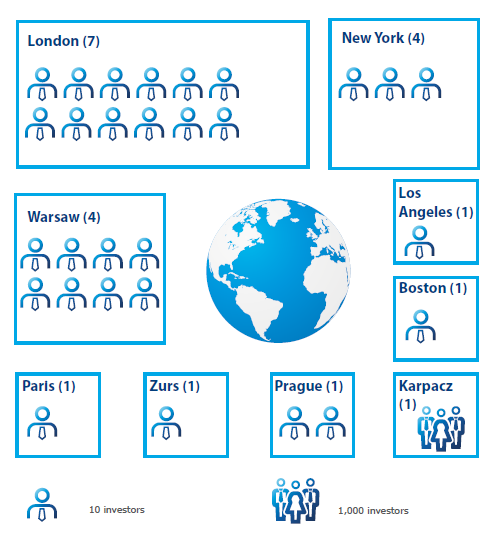 Activities aimed at individual investors
In 2016, PZU actively supported individual investors, specifically by providing credible and relevant information on the activity of PZU, the insurance industry, and financial markets. In this range, PZU both realized the projects oriented to improve communication (including the online report, newsletter, factsheet) and was pro-active in providing direct access to the Company's representatives, including:
participation in Poland's biggest conference for individual investors organized by Individual Investors' Association, named 20th Wall Street Conference in Karpacz (over 1,000 registered investors) – the largest meeting of individual investors in Central and Eastern Europe;
organization of 4 on-line chats with individual investors, in which the Member of the PZU Management Board of who is in charge of Finance Division in PZU Group also participated, after each publication of the results.
In 2016, PZU took part in the "10 na 10 – komunikuj się skutecznie" [Ten out of Ten: Effective Communication] program aimed at creating high communication standards for quoted companies to reach individual investors.
Awards and prizes for IR activities
Activities of PZU regarding investor relations are highly appreciated both by investors, analysts, and media. In 2016, PZU received the following awards and prizes in this area:
First place for the annual online report (for the second year running) in the "Banks and financial institutions" category in the Best Annual Report

competition organized by Polish Institute of Accounting and Taxes (IRIP). In the general classification of the Best Annual Report 2015, which is composed of

the total assessment of the consolidated financial report, the management board report from the Group's operations, and the online report, PZU came third;
Kryształ wsród raportów
W PZU wiemy, czym jest przejrzystość – nasze wysokie standardy w zakresie raportowania fi nansowego online już po raz drugi zostały docenione pierwszą nagrodą w konkursie IRIP za najlepszy raport roczny w Internecie.
Third place for the President of the Management Board Michał Krupiński in the top CEO ranking for investor relations in Poland and Central and Eastern Europe in the Extel 2016 survey;
Third place (for both PZU and individually for the Head of Investor Relations - Piotr Wiśniewski) in the top investor relations in Poland ranking in the Extel 2016 survey;
The Extel survey included 16 thousand people from investment environment from 75 countries. 5.5 thousand individuals and over 1.5 thousand companies were subject to the survey in the field of investors relations conducted by representatives of brokerage houses and investment analysts. All data used for drafting the ranking were subject to an external audit which ensures their credibility and correctness.
Honorable mention by Individual Investors' Association in the "10 na 10 – komunikuj się skutecznie" [Ten out of Ten: Effective Communication] program for preservation of high standards of communication with the capital market;
Business Sharks award (at the first Capital Market Forum) in two categories: "Debut of the last 25 years" and

"Dividend-yielding company".
IR aims for 2017
The main aims for PZU's Investor Relations in 2017 are:
strengthening good relations between the PZU Management Board and investors;
ensuring understanding and approval for the PZU 3.0 strategy among the investors and analysts;
providing a broad market for PZU shares and bonds – by continuing pro-investor activities aiming to create a diversified (geographically, numerically, and in terms of their profiles) group of investors who know the company and are well-informed;
ensure wide coverage for PZU shares by analysts of investment banks and brokerages (sell-side) and ensure fair valuation of PZU shares by providing analysts with high- quality information on the activities of PZU, industry trends, factors affecting the financial results and feedback on the

analysis of the issued recommendations;

creating standards of investor relations for other quoted companies to follow;
providing the PZU Management Board with regular feedback on perception of PZU among capital market participants and wide knowledge on existing and potential shareholders of the company;
monitoring investors' sentiment towards PZU shares and changes in shareholding structure in order to apply the most adequate IR actions and tools and IR plans effectiveness assessment.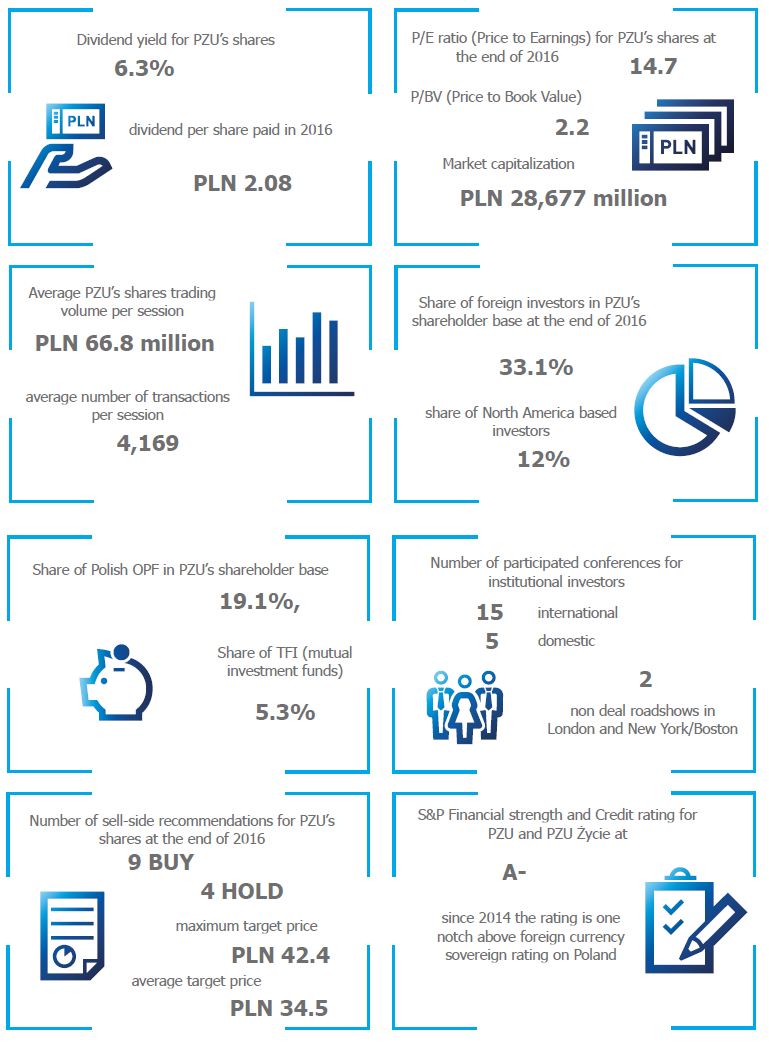 1 Source: https://static.gpw.pl/pub/files/inwestorzy_w_obrotach_GPW_prezentacja.pdf